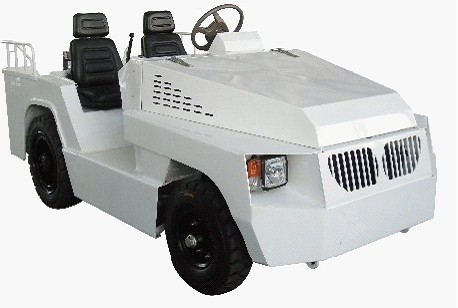 ZT20 diesel powered towing tractor is designed for towing baggage and cargo in airlines / aircraft servicing industry. It adopts most advanced technology in Europe and is of armored design. Unlike other tractor, the chassis structure is unit and are welded together with different thicknesses of steel plate (the others are using existing fork–lift truck body with one heavy counterweight at the rear part). This will give the tractor evenly distributed in the loading and as a result, the tractor has a higher efficiency and stability during towing in climbing and descending and turning sharp angel. Also it has the less minimum turning radius of 3.15 meter.
The ZT20 can an ability of towing 40 tons at the back. Our unit design at the rear storage compartment can hold last minute baggage or other small cargo without using any additional equipment.
The seat is designed in according to human engineering so as to enable the driver obtains the highest comfort even long working hours. The main component includes the engine and transmission can be both local supplied or imported so as to meet different customer's requirements.